Ceramist
I find it very satisfying to transform chunks of clay into stoneware ceramics. Throwing clay on the potters' wheel brings me peace. My work is mostly functional and inspired by my love for nature. I like the idea that my pieces of ceramics will end up in your homes and gardens and give you some joy.
Agate ware
For my latest work, I use the agateware technique for which I use contrasting clays. These vases are made with very fast centering of the clay on the wheel because otherwise, the colors mix up too much. I love the feeling and look of the clays without any glaze. Only on the inside, I put a transparent glaze.
Happy Christmas
My first Christmas ball is nominated for the best Christmas tree decoration by Colpaert Van Leemputten (the biggest ceramics shop in Belgium). This was my first trial to apply a porcelain slip on nigra stoneware clay. I'm impatient to try this on bigger vases.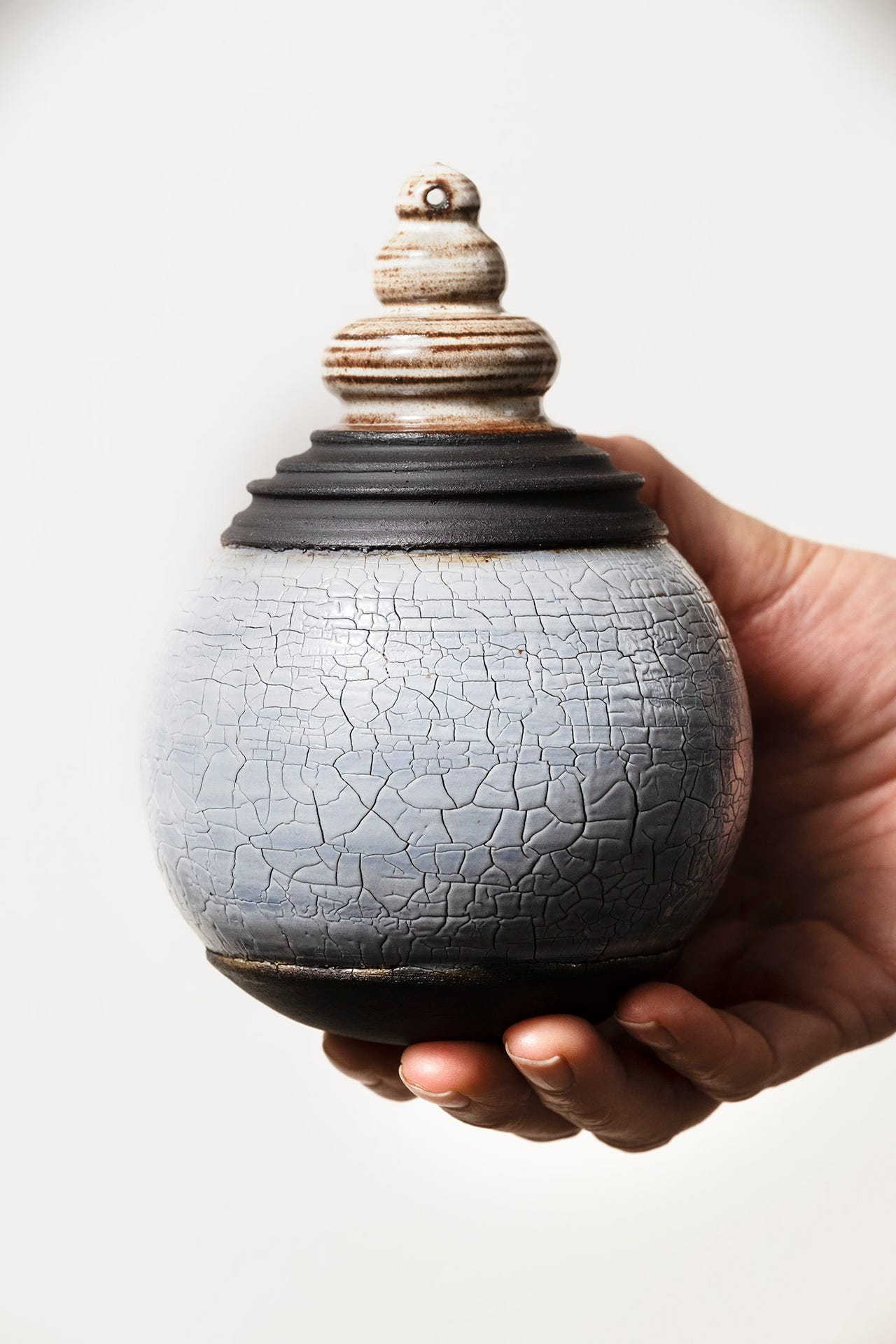 The little boxes below are some of the most difficult pieces I made up to now. It's quite a challenge to make a lid that fits on a box. Often the size of the box changes during the fire in a different way from the lid. With a glaze on the box, it's also impossible to fire them together as the lid will be glazed onto the box and stick forever.
I love to include some spirals inside and on the bottom of the box. These decorative elements show the movement of the pottery wheel. I hope these boxes will make people happy and I'm truly curious which secret little objects they will contain in the future. Let me know, please.
I adore creating vases. They let my creativity run wild. The variety of forms, techniques, and glazing methods are endless.
Here are some images of vases I made in 2021. See more images on my store for those still available.
Butter Set
I love speckled clay. Here I combined it with a simple butter glaze through which the spots appear. I also like to add a spiral while wheel throwing. I feel that it adds some uniqueness to each piece. This is my first breakfast set with plates, mugs, bowls, a small milk can and a water or coffee jar.
Honey jars
End of May is the spring honey harvest in Belgium. This year I would like to present my honey together with ceramic honey jars. This is my very first one. The imprint is of course that of a bee queen without whom no bee colony can survive.
Bird House
I love the idea that birds will be born in something I created with clay. These bird houses are stoneware and thus waterproof and durable unique items.